CAREERS
At Wild Hare, your HAPPINESS is our PRIORITY.
If you are looking for a professional, career focused salon culture that prioritizes education, excellence, and work-life balance – then we are looking for YOU. Wild Hare is hiring new and experienced stylists, and guest service experts.
We want you to be happy and feel confident in building your career at Wild Hare. With that in mind, we offer a clear career path, with mentoring and coaching so you know where you are going, and you know how to get there. We provide in-salon training and education to level up in technical skills, business building, and mental mind set. Here at Wild Hare, we believe that what you face in your personal life directly affects your professional life so, we also give you an opportunity to attend in-salon workshops centered around a variety of topics from budgeting to wellness. You will work with a team that is supportive and will walk through it with you, cheering you on.
We are a Summit Salon that provides an exciting career path for service providers looking to grow faster, better and STRONGER! Whether you are new to the industry or have years of experience but just feel stuck – Wild Hare offers the systems, coaching, and education needed to take your career to the next level.
Willingness
We desire an environment of team members who are willing to lend a hand, are eager to help, are open and ready, can change their mindset if necessary, and have a passion to learn. In this growth-oriented atmosphere, our guests benefit from a forward-thinking environment and comfort of knowing the stylists are well-trained in emerging trends and progressive styles.
Empowerment
We provide a wealth of resources to our team ranging from continuing education and workshop opportunities, self-development, goal setting, and opportunities to give back to the community. We believe that this instills loyal, committed employees who are dedicated to giving an exceptional salon experience to each and every guest.
Inclusiveness
We believe in greeting everyone in a welcoming atmosphere to provide them with a positive experience. Since each person has and brings value and we respect each person's uniqueness, we foster an environment of appreciation, belonging, and a voice in decision making. We embrace diversity in thoughts, ideas, and spirit and are committed to continued connections for the best services for our guests.
Open-mindedness
We encourage a culture of being open to other thoughts and approaches for not only personal growth but also effective relationships. We promote a non-judgmental environment of another person's way of believing, living, and doing. We value individuality and have a culture of diversity to encourage understanding, acceptance, and a safe environment for all.
Integrity
We are committed to honesty to ourselves, our guests, and each other as we understand the vital importance of being authentic. We foster an environment of direct, professional feedback and guidance for our guests as they have entrusted us with our ability and care, and trust that our offerings are genuine. We believe that explicit communication builds implicit trust.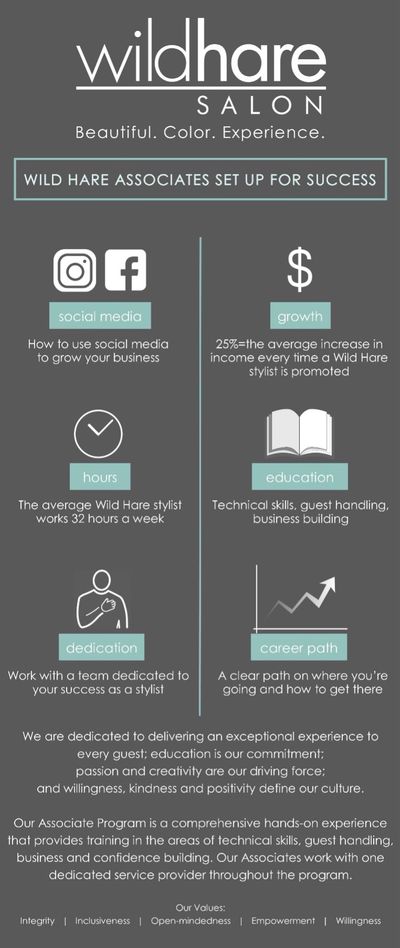 ASSOCIATE PROGRAM
Our paid Associate Program is designed for recent graduates in cosmetology. During your time in the program you will learn how to provide a premium guest experience by working HANDS-ON with one of our talented educators. This one-on-one coaching and mentoring program will provide you with an incredible advantage when starting your career. Associates have access to world-class technical classes and nationally renowned educators. In addition to coaching, associates also have weekly opportunity days to work on their own clientele and practice their skills. You are not alone, we are with you every step of the way!
BENEFITS
*Extensive Paid Hands-On Training Program
*Team-Based Culture
*Flexible Schedules
*Paid Continuing Education
*Retirement Plan-Simple IRA
*Mentoring and Coaching
*Teaching Environment
*Vacation Benefits
*Retail Commission Bonus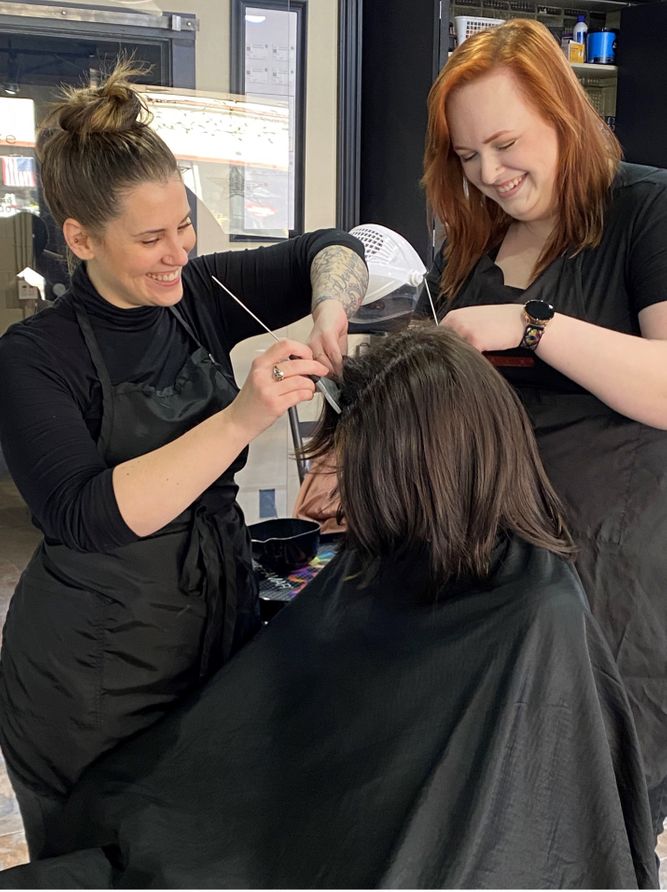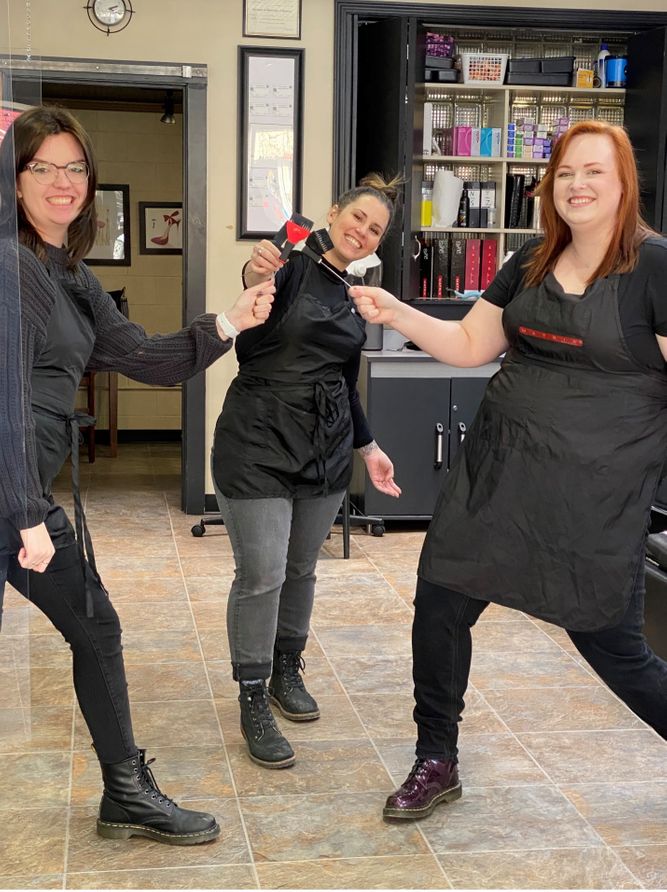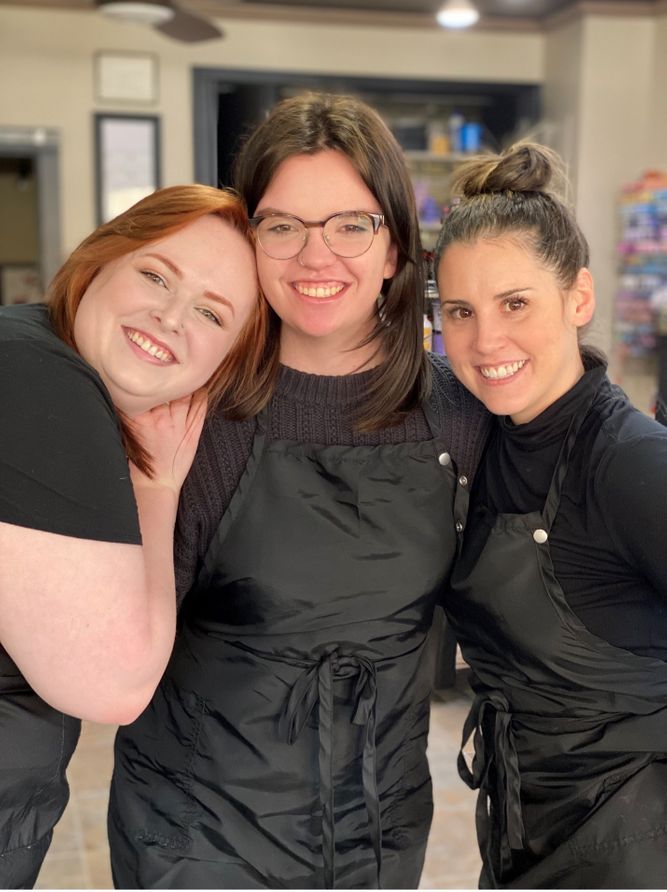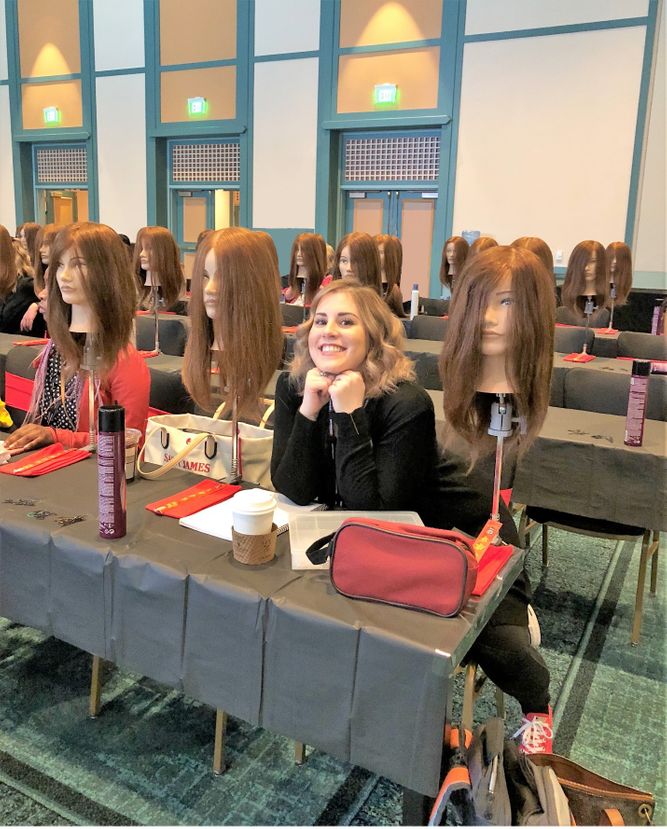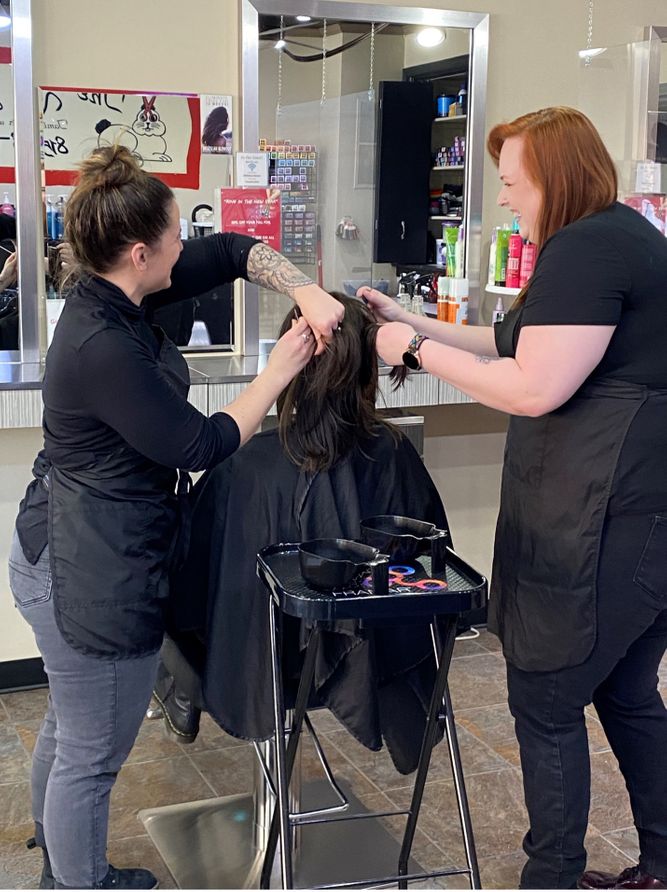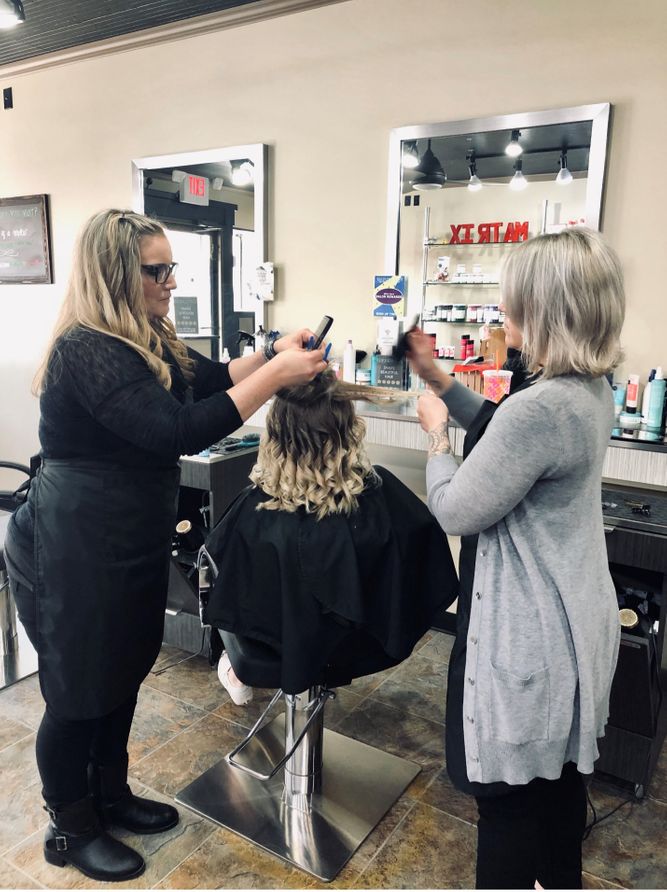 If you would like to tour Wild Hare and speak to a staff member about opportunities with our salon company, please call us at 815-568-8839
To apply for any of our career opportunities, please take a moment as Carrie shares with you what we offer at our salon company to build your beautiful career. After listening, fill out the application below to start your journey with us. A Wild Hare representative will follow up with you via phone or email.